cruises
Princess Cruises Royal Princess Review
The first new Princess ship in 5 years brings a number of enhancements to the line's typical layout and design. But a few changes made no sense to us.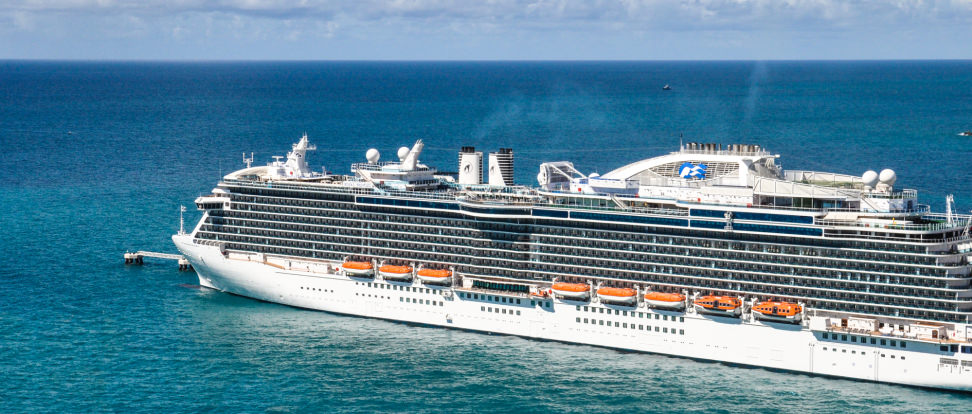 Creating a new "class" of ship is not something a cruise line takes lightly. Now costing upwards of a billion dollars to construct and with a life expectancy of about three decades, no detail is too small during the development of today's mega-ships. With each berth costing an average of $175,000 or more, every square inch of seagoing real estate matters.
Princess Cruises stuck with its Grand Class design for a decade, delivering nine ships in all, culminating with 2008's Ruby Princess—a longer run than perhaps any other ship class. Well-liked for their multiple pools, an emphasis on balcony cabins, and big-screen Movies Under the Stars, Grand Class ships developed a loyal following among a broad base of cruisers. With such product consistency, there were bound to be expectations from Princess devotees when the line announced it was creating a new class, debuting in 2013 with Royal Princess.
Aboard this gleaming new ship, we met a Princess regular who shared with us the concerns she harbored ahead of departure. "I'd heard about problems from guests on the first sailings—there was some grumbling," she said. "But I researched my cabin location carefully and moderated my expectations."
Towards the end of our cruise we caught up with her again and asked how she like Royal Princess. "I think it's great," she told us. "But I knew what to expect."
This is our kind of traveler—someone who takes charge of their vacation and does the research necessary to make sure they get everything they want out it. We, too, had some concerns about this ship. Read on to find out what we learned, and what you need to know before booking your cruise on Royal Princess.
About Our Cruise
This is actually the third ship to be named Royal Princess. The first launched in 1984 and was christened by Diana, Princess of Wales—it now sails under the name Artania for a German tour operator. Fittingly, it was Catherine, Duchess of Cambridge—Princess Kate, to those in the know—who handled the naming honors for the new Royal Princess. (The black-and-white spotted outfit she wore for the christening is displayed behind glass near the guest services desk.) The $750 million ship was launched in June 2013; a twin, Regal Princess, debuts in May 2014.
Royal Princess is one of the flashiest vessels at sea—she warrants more than a cursory overview.
Snub-nosed yet sleek, Royal Princess carries 3,560 passengers, about 16 percent more than Princess' next largest ship. Weighing in at 142,449 tons, Royal Princess launched as the ninth-largest cruiser. As the first new Princess ship in almost five years, it was no surprise that the line opted to change things up a bit. Some of these evolutions amount to solid improvements; a few of them flat-out didn't work for us. Princess seems to have acknowledged some of these issues—in late 2013 the line announced there would be some changes to the deck plan for Regal Princess. Nonetheless, as befits a duchess, Royal Princess is one of the flashiest vessels at sea—she warrants more than a cursory overview.
An enlarged, sparkling Piazza is among the things designers got right. This three-deck-high atrium is an appealing axis for the ship, where entertainment offerings spark to life. We enjoyed these from seats in one of several bars, or at the expanded venues Alfredo's Pizzeria and the International Café, both Princess stalwarts. The new seafood bar Ocean Terrace is an excellent addition that we would welcome on other Princess ships.
The Piazza isn't wasted on mundane functions such as a front desk or shore excursion desk—these are smartly tucked out of sight on Deck 5, allowing for better traffic flow.
The Piazza isn't wasted on mundane functions such as a front desk or shore excursion desk—these are smartly tucked out of sight on Deck 5, next to the spa entrance, allowing better traffic flow for both these desks and the atrium. And yes, rather than a spa above the bridge, the usual configuration, on Royal Princess the spa is located on the lowest public deck. None of the treatment rooms have views, but the space is swank and well utilized (the fitness room is completely separate, on Deck 17). One caveat: On other Princess ships the steam room and sauna are open to all passengers; on Royal Princess the steam room and sauna are inside the Thermal Suite, for which one must purchase a pass.
Princess' traditional Horizon Court buffet has received a major makeover here, with a broader food selection and more stations and, again, improved traffic flow. On select nights, one corner of Horizon Court is turned over to a specialized menu (with a surcharge) for fondue or a crab feast, to mixed results. Staged entertainment was much improved over the staid, stale shows we've usually experienced on Princess ships. It's loud, flashy and colorful—not for all tastes, but at least it's not boring.
The interactive TV system features an extensive on-demand selection.
The corridors leading to cabins are lined with framed photos of Princess destinations, taken by cruisers—some of them are quite good. Cabin décor has been spruced up, getting away from the drab, outdated color scheme found on other Princess ships. The interactive TV system, a first for Princess, works well, and features an extensive on-demand selection that does not require pay-per-view fees.
Where Royal Princess Missed
The check-in process did not go well for our cruise. We arrived at Port Everglades shortly before noon and found hundreds of people outside the terminal in a queue that snaked on and on. There was poor communication between ground staff, with conflicting information about where to go. The process exceeded 80 minutes, and we weren't seated for any of it.
For a cruise line that prides itself on the quality of balcony accommodations, our veranda was a real letdown.
Although our cabin was comfortable, we didn't think much of our balcony. Less than 4 feet deep, we could barely maneuver around the two chairs placed here. The tiny round coffee table was inadequate for two to enjoy a meal on the balcony, as we have on other Princess cruises. While it's not the smallest balcony we've encountered, for a cruise line that prides itself on the abundance and quality of balcony accommodations, our veranda was a real letdown.
We liked the pool area called the Retreat, representing somewhat of a new concept for Princess. It's an adults-only area that is quieter and offers cabanas for rent. But this is one of only two pools on the entire ship (there's also a plunge pool near the main Fountain Pool, but this isn't useful for much more than a quick dip). Again, Princess has been known for extensive pool environments, including indoor facilities and (on a number of ships) a pool perched on the aft deck. The result is that, when the sun was out, the two pool areas on Royal Princess were packed to the gills.
This is the first Princess-designed vessel to not have a traditional promenade deck.
We were annoyed that the center stairwell rises only to Deck 7, the top deck of the Atrium. If your cabin is located midship—as ours was—you either need to head to the forward or aft stairwells or take the elevators. Not surprisingly, the elevators were overburdened and slow. Keeping our figure intact means using the stairs on our way to the buffet, but we tired of trekking up and down the long hallways to the stairwells. Also, this is also the first Princess-designed vessel to not have a traditional promenade deck circling the ship. Instead, there's a veranda about 100 feet long that extends from Deck 7 on either side of the ship at the Piazza. While this is a pleasant enough space to use, we missed being able to stroll around the ship (joggers will find a short running track on Deck 18).
And, whoever thought of locating the toilet paper dispenser in cabin bathrooms behind the toilet—the most ergonomically awkward location possible—should have their design credentials removed. Hanging the dispenser from the ceiling would have made more sense! True, it didn't bother us that much, but it was a laughably bad decision—like some diabolical game of Twister played from a toilet seat.
Conclusion
While we had some issues with how Princess has configured their newest ship, we still found Royal Princess to be a lovely new member of the fleet. Were we to book another cruise on Royal Princess—and we probably would—we'd steer clear of standard balcony cabins with their puny verandas. Instead, we'd opt for an inside cabin (to save money) or opt for an "angled balcony" cabin (explained on the next page). We'd avoid midship accommodations, which lack stairwell access.
It felt like exactly the right dose of hubbub and easy-going glitz.
But whether by design or default, on this itinerary Princess pulled off a neat trick: When we wanted our cruise to be subdued and relaxing, that could be found, whether in our cabin or at an unexpected hideaway we found on deck 7 aft. By the same token, when we were in the mood for an upbeat, festive atmosphere, that could also be found. On the second formal night we eased into our best duds around 7:30 and sauntered down to the Piazza and found the entire area buzzy and alive, with not a seat to be had at Crooners. Somehow, we didn't mind—we ogled the dresses and the photo posing and soon enough a table became available. It felt like exactly the right dose of hubbub and easy-going glitz, surrounded by people genuinely appreciating this dazzling new ship.
So although we think Princess Cruises' bean counters cut some corners in determining the specs for Royal Princess, the ship is a truly handsome addition to the Princess family. With fingers crossed, Princess will be able to address most of these deficiencies when Regal Princess launches in May 2014. Read on for more details about our cabin, the ship's dining options, and more.
Our editors review and recommend products to help you buy the stuff you need. If you make a purchase by clicking one of our links, we may earn a small share of the revenue. Our picks and opinions are independent from any business incentives.
Sections