cruises
Princess Cruises Royal Princess Review
The first new Princess ship in 5 years brings a number of enhancements to the line's typical layout and design. But a few changes made no sense to us.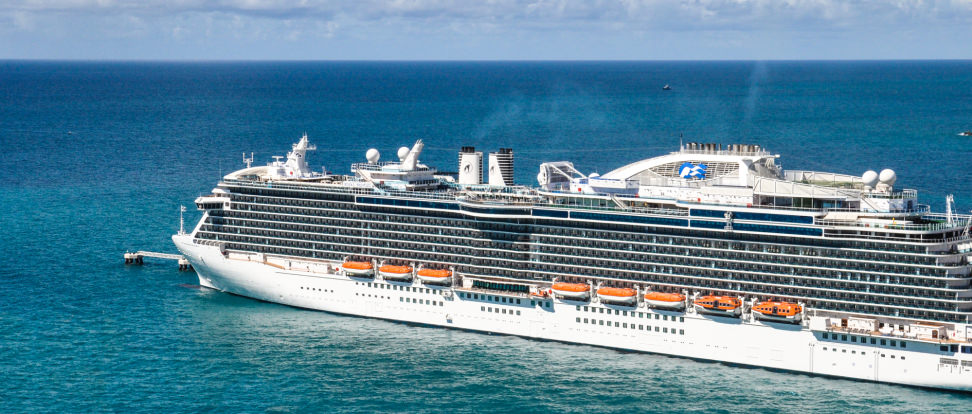 One of the interesting innovations on Royal Princess is a complete absence of the usual oceanview accommodations. There are 342 Interior cabins—that is, cabins with no view. These offer a good way to save money, but most of us will opt instead for one of several types of Balcony cabins, the standard of which measure 222 square feet (according to Princess), including the balcony. We had a Deluxe Balcony, described below, which added 11 square feet to the standard quarters. There are also Mini-Suites and Suites.
Another big change for Royal Princess is that the decks aren't in a ziggurat configuration—like a wedding cake—meaning decks have more privacy (and shade) than before. But this has a downside. As we mentioned earlier, the balconies on Royal Princess are smaller overall (and probably will be for Regal Princess, as well).
However, careful examination of deck plans reveals there are a few cabins on each deck with larger balconies—a smart option for those who don't want to be squished into an undersized veranda or pay a premium to land in a suite. For instance, there are a few larger balconies on Deck 8 forward, and on decks 15-16 above the bridge you'll find enlarged forward-facing balcony units (note that all of these have a steel railing instead of glass). Also, at midship from decks 8 through 15 there are two slight protrusions on each side of the ship, below the SeaView Bar (port side) and SeaWalk (starboard)—as a result, about eight cabins on each deck get an angled, slightly larger balcony where the ship's superstructure extends out a few feet. One caveat: Guests in the cabins on Deck 15 starboard will find the interior of their cabin to be partially in view of those using the SeaWalk.
Our Cabin: Deluxe Balcony, Obstructed View
We were looking to save a few bucks on our cruise, so we opted for a guarantee balcony cabin with an obstructed view. At embarkation Princess upgraded us to a deluxe unit, which added 11 square feet to the interior of our cabin. Other than the size of the balcony and the amount of obstruction—more on that below—we were happy with our cabin. Princess has spruced up its cabin décor, offering a more contemporary, less bland environment. While still somewhat generic, we liked it.
The queen-sized mattress offered a nice medium between firm and soft, and we found the bed linens appealing, with a ribbed texture—we slept well. Behind the bed was padded wall/headboard. The mattress was actually two twin beds pushed together (they could be separated for passengers not sleeping together), and the split was adequately concealed by a pillow-top. Small nightstands with lamps flanked the bed, and there were light switches on either side of the bed for the main lighting fixtures. The lamps on the nightstands were not quite sufficient for reading, but a pair of overhead spotlights above the pillows did the job.
The cabin layout was in Princess' usual style, with the closet area walled off from the bedroom, creating a dressing room of sorts. The closet area, which had no door, was 6-foot 1-inch wide with a shelf overhead, allowing ample storage space for clothes on hangers (there were 22 hangers, but room for more). Above the hangers was a long shelf, which had our life preservers and beach towels. Next to the closet was also a cabinet with five shelves (one of which held the safe), and we had storage space under the bed for our luggage.
The couch was a pullout bed, though we were told when extended it blocked access to the balcony. A built-in desk faced the couch, where there was a phone, ship directory, and electrical outlets (two three-prong 120-volt outlets, plus one European-style, 230 volt "schuko" outlet). Next to the desk was a mini-fridge that contained four cans of soda (Coke, Sprint, including diet versions—$1.95 each). Above the mini-fridge was a drawer storing a hair dryer and above this was a shelf with bottled water ($3.50), an ice bucket and a pair of glasses; the ice bucket was refilled daily. There was an oval coffee table that was a bit small for two people dining.
Facing the bed, mounted on the wall, was a ViewSonic 42" flat screen TV. The screen did not pivot, but was fine for viewing from the bed or the couch. Our cabin was primarily illuminated by overhead lights, controlled by switches at the cabin door and another behind the bed-pillows. At check-in, nametags were posted outside all cabin doors, identifying the occupants and their status level in Princess Cruises' Captain's Circle.
The cabin acoustics were good. However, we could hear the TV from the cabin next door till late at night (maybe they were hard of hearing?). General announcements over the ship p.a. system could not be heard inside cabin or outside in the hallways, but they were audible on outside decks (bridge announcements could be heard in hallways).
Our bathroom was compact but the space was utilized efficiently. There was a large mirror over the rectangular sink, and the shower (no tub) was to the left, with the toilet in between. The toilet paper roll was stupidly positioned behind the toilet. On one side of the mirror there were three shelves adequate for a standard travel kit; there was no makeup mirror. The hairdryer was fixed inside the desk, not in the bathroom.
The shower stall was level with the bathroom floor—a two-inch lip kept the water in its place; there was a fabric shower curtain and, inside the shower, a retractable laundry line. Oversized bottles of shampoo/conditioner (combined) and body soap, branded to the ship's Lotus Spa, were mounted on the wall. The products were okay, but not for anyone with special hair needs. There was also a tube of body lotion by the sink, along with a soap bar. There was no sign instructing us what to do when we wanted towels replaced, but they weren't replenished when they were hung on the towel rack (just as we wished).
The Princess Cruises' website said our cabin measured 233 square feet total. We consider this to be a generous interpretation of our cabin's usable space. By our measurement, the inside of the cabin came out to approximately 188 square feet. We measured the balcony at 47.5 inches deep by 108.5 inches wide, or 35.8 square feet, so let's call it 224 square feet total. While the interior space for our cabin was comfortable for two, there was no getting around the fact that our balcony was snug—certainly not adequate for two to enjoy dining outside (as is typical on most Princess ships).
Further, on the Princess website our cabin was advertised as a "part obstructed view." When we called Princess to inquire what the obstruction was, we were told it only involved the pullman bed, in the event it was pulled down for a third guest—that there was "nothing" obstructing the view from the balcony. Not true. In front of our balcony, a lifeboat was off to the side, while other contraptions rose above the railing to block most of our view. As you can see from the photos, our view was quite obstructed, especially when we were seated.
Cabin Amenities
Standard features in all Royal Princess cabins include twin beds that converted into a queen, 100-percent Egyptian cotton linens, evening turndown and chocolates on the pillow, a mini-fridge, safe, phone, and 110V, 60-cycle AC electrical outlets. The bathroom was stocked with Princess-branded shampoo, conditioner and body lotion. While a waffle-weave bathrobe was also waiting for us in the closet on previous Princess cruises, that wasn't the case on Royal Princess.
Our TV was a 42" ViewSonic flat screen, mounted against the cabin wall facing the bed. Although the monitor was a High-Definition model, the signal input for all channels was analog—only the ship's own signal was high-def. Additionally, picture input was incorrect sizing, meaning the information contained on the sides of the screen was cut off. Still, the roster of free entertainment on-demand was impressive, most of it offered in high-def presentations. This included 10 TV comedy shows (from both cable and network channels) with a selection of 5 episodes each (The Middle, Veep, 30 Rock—all from season one); 10 drama series with 5 episodes each as well (Dexter and Homeland season one, Good Wife season three)—just enough to get us hooked on a series or two. There were about 100 movies available on-demand, split between theatrical releases of the previous year and big titles from the 1970s and 80s. There were no pay-per-view charges, and the TV's interactive features were easy to operate.
Other Cabins
We did not stay in the rest of these cabins, but we have summaries here provided by Princess Cruises. Note that photos below have been provided by the cruise line and not our reviewer.
Interior
The Interior stateroom is approximately 166 to 175 square feet and richly appointed with fine amenities. Some also have pullman beds to accommodate 3rd and 4th passengers.
Balcony (Obstructed)
Obstructed View Balcony staterooms are approximately 222 square feet and feature all the comforts and amenities of the Balcony cabins, but have a partially or fully obstructed view from the approximately 41 square foot balcony. Some also have pullman beds to accommodate 3rd and 4th passengers.
Balcony
The spacious approximately 222 square foot Balcony stateroom is appointed with fine amenities and outstanding views from an approximately 41 square foot private balcony. Some also have pullman beds to accommodate up to 4 passengers.
Premium Deluxe Balcony
Larger than our Standard Balcony staterooms, Premium Deluxe Balcony cabins provide approximately 233 square feet of comfort, and an approximately 41 square foot balcony and includes all the same features of the Balcony stateroom, plus an additional sofa bed for lounging or sleeping a third passenger. Some also have a pullman bed to accommodate a 4th passenger.
Mini-Suite with Balcony
The luxurious Mini-Suite offers approximately 299 square feet of comfort and an additional, separate seating area with a sofa bed for lounging or sleeping a third passenger. The spacious balcony is approximately 41 square feet and the bathroom offers a combination tub and shower. Some also have a pullman bed to accommodate a 4th passenger.
Mini-Suite with Balcony
The Premium Mini-Suite offers a spacious cabin with an extra-large balcony. The cabin features a separate seating area with a sofa and the bathroom offers a combination tub and shower.
Suite with Balcony
Premium accommodations and luxurious appointments are the signature of our expansive 440 to 682 square feet Suites. Your Suite stateroom includes a spacious cabin and large 83-338 square foot balcony, along with special suite-only benefits. Suites feature a separate seating area with a sofabed, walk-in closet, full bathroom and deluxe amenities.
Our editors review and recommend products to help you buy the stuff you need. If you make a purchase by clicking one of our links, we may earn a small share of the revenue. Our picks and opinions are independent from any business incentives.
Sections