cruises
Carnival Cruise Lines Carnival Breeze Review
Carnival's newest and largest ship lays out an array of next-generation features, and delivers good value, too.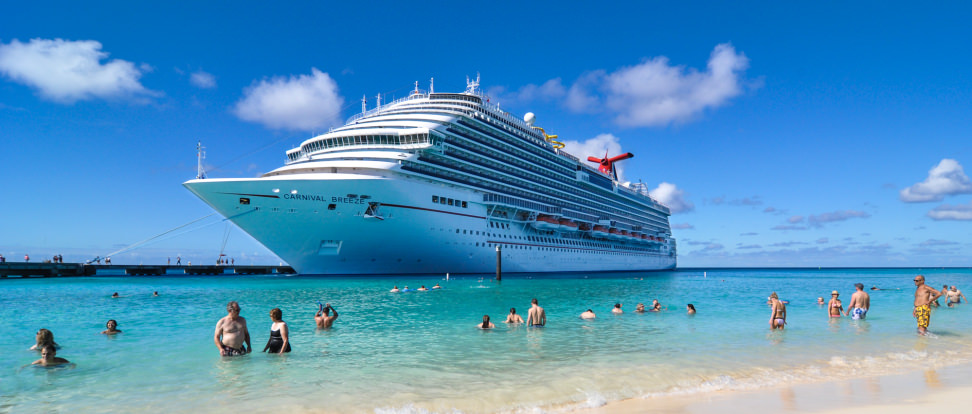 First going to sea in 2012, Carnival Breeze is the latest and largest from Carnival Cruise Lines. Carrying 3690 passengers, Breeze is—structurally—a sibling of both Carnival Dream (2009) and Carnival Magic (2011), with near-identical tonnage and guest capacity. But similarities with the Dream Class end there, for Breeze was the first vessel to debut with (almost) the full menu of next-generation Carnival amenities, a program marketed as "Fun Ship 2.0."
In addition to new dining and drinking concepts, Breeze was the first Carnival ship to abandon the Joe Farcus-conceived interior designs—brash décor that could make a whole vessel look like a garish casino, circa 1970 (a style dubbed by some as Farchitecture).
What's the "new" Carnival all about? Offering Caribbean voyages out of Miami year-round, we set sail on Breeze to find out.
About Our Cruise
Coming in at 130,000 tons, Breeze has the largest capacity of any ship in the Carnival fleet. More than 20 cruise ships are larger; for comparison, Celebrity's Solstice Class is slightly smaller than Breeze, Royal Caribbean's Voyager Class is slightly larger.
The decision to launch a fleet-wide revitalization program actually happened late in the construction process for Breeze. Just eight months before inaugural cruise for Carnival Breeze, the Fun Ship 2.0 program was announced. Breeze would be the first ship to get the full cosmetic overhaul. For years, Carnival has been known for its garish décor—though, in truth, the playful glitz and whimsy still has its fans. So although Breeze looked much like her siblings outside, once inside we discovered a whole new guise for Carnival.
Embarkation wasn't swift, but proceeded smoothly. Between lines to check in and a wait to board, the process took 40 minutes. We did not sign up for Carnival's "Faster to the Fun" package, an add-on that allows guests to embark ahead of the crowd (priced $49.95 per cabin).
Although the new look could be faulted for being generic, all in all we liked the improved aesthetics.
Boarding straight into the nine-story atrium, the revamped décor announced itself immediately. We were welcomed by a relaxed color palette, more natural light, and a panoply of magenta, yellow and red lanterns rising through the elevator shaft. Seeking out our cabin, the hallways offered an inviting beach motif of palm fronds, sea and sand. The tropical ambience was not delivered through tacky plaster, plastic or paint, but via a continuing photographic mural using a simple crisp image—refreshing. The color scheme inside our cabin moved away from Carnival's former dirty mauve to yellow and blue pastels. Although the new look could be faulted for being generic, more inoffensive than truly memorable, all in all we liked the improved aesthetics.
Even better, over the next few days, we discovered that Carnival Breeze has—for the moment—a greater variety of features than any other Carnival ship in the fleet.
Setting Sail
Meals in the main dining room were on par with previous Carnival experiences, with generally good appetizers and entrées along with a few clunkers. The layout of the buffet venue, Lido Marketplace, has been substantially improved to provide cleaner traffic. The steakhouse, a tradition on all of Carnival's newer ships, delivered an excellent meal, for a surcharge. In addition to venues dedicated to Indian, Mexican, sushi and burgers, there was a barbecue option available on sea days. In all, the diversity of food options was impressive, with most of the Lido Deck serving as a kind of giant food court—there was, truly, something to please almost everyone.
Other noteworthy features on Carnival Breeze included Waterworks, a top-deck water park with a couple nifty slides and a ropes course (though the latter was closed more often than not due to winds). The usual exterior promenade deck is aptly named the Lanai on Breeze, and the widened terrace was a great spot for sun and socializing, with four cantilevered Jacuzzis perched above the lifeboats. We heard some grumbling about the main theater's revamped staged entertainment. But we felt the high-tech shows, which are just 30 minutes long and utilize giant LED screens instead of props and sets, are a good way to provide fresh entertainment to a divergent crowd.
Meanwhile, many of the aspects Carnival's fun-loving past guests count on are well represented aboard Breeze. There's a DJ for the main pool, with hits pumping throughout the day. The adults-only Serenity area is a well designed chill-out zone (though packed on sea days). The Punchliner Comedy Club in the Limelight Lounge delivers a solid laugh track several nights a week. Kids are well accommodated in Camp Carnival, Circle "C," and Club O2, the areas set aside for—respectively—children, tweens and teens. And the waiters at Cucina del Capitano still do their Dean Martin best when breaking into a rendition of "That's Amore," to the delight of many.
This is a busy ship, and on our sea days, we found many venues to be packed or overflowing.
Our initial impression with Breeze was that Carnival hit one out of the park. But over the course of a few days some issues became apparent, most particularly regarding crowds. This is a busy ship, and on sea days we found many venues to be packed or overflowing. There were just two pool areas, neither of which was designated for adults only. There were long lines to try the Mongolian Wok station and Guy's Burger Joint.
Ambient smoke was an issue in a couple areas of the ship—primarily the casino and dance club—but we also found our balcony plagued by cigarette smells that wafted up from the Lanai below, as well as from nearby cabins. (Currently, Carnival and Norwegian are the only major cruise lines that still allow smoking on cabin balconies.)
Breeze was also, like most Carnival cruises, a noisy ship. While the crew did a good job of sequestering the kids into designated areas through most of the day and evening, some of the critters escaped and seemed to congregate in the hallway and cabins surrounding our room. If only we had a nickel for every time we heard a neighboring cabin door slam shut. Part of this is due to the air vents in cabin doors which allow a fair amount of sound leak from the hallway.
Fortunately, the ship's engines weren't loud, they purred gently. Our cabin was towards the aft, and we were never awakened by thrusters or rumbling motors. In fact, our quarters were quite comfortable—not oversized, but sufficient for two, and well maintained by our steward.
Conclusion
Carnival Breeze is the new Carnival personified. While fans of the old Joe Farcus glitz may find Breeze has less personality than they're accustomed to, this new approach to design may lure a few converts to the brand. And the number of features Breeze offers is hard to resist—it's a particularly good ship for families.
Our two primary complaints—crowding and noise—are mitigated somewhat by the relatively low fares Carnival charges, even for its newest ship (though Breeze is priced somewhat higher than other Carnival ships offering similar itineraries). To find a cabin on a Caribbean cruise during the winter for less than $100 per person, per day isn't hard, but to find it on a nearly new vessel like Breeze, clean and spotless and with all its bells and whistles, makes this ship truly appealing. Given the value, we would enjoy sailing on Breeze again, and we're eager to see Carnival's promised enhancements delivered throughout the fleet.
Our editors review and recommend products to help you buy the stuff you need. If you make a purchase by clicking one of our links, we may earn a small share of the revenue. Our picks and opinions are independent from any business incentives.
Sections