cruises
Oceania Cruises Riviera Cruise Review
Oceania's Riviera is the newest upscale cruise ship in the market. It's a splurge—does it deliver the goods?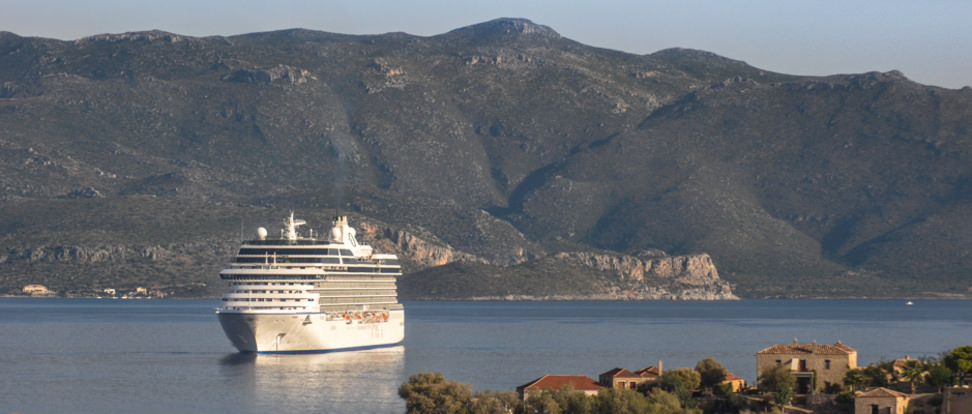 Following hot on the heels of Oceania's Marina that debuted in 2011, sibling Riviera launched in May 2012 and was quickly established as one of cruising's most elegant options for the upscale audience. With menus overseen by chef Jacques Pépin, a Canyon Ranch spa, sumptuous bedding and tasteful cabin décor, Riviera caters to a discerning crowd that expects deferential service and a refined atmosphere.
One of the youngest operators in the business, Oceania Cruises was formed in 2003, coming onto the scene with three of the 684-passenger "R-class" ships from Renaissance Cruises, a luxury line that went belly-up in 2001. When it came time to build two new ships, Oceania started with a clean slate, creating vessels that were double the size of the existing ships—the 66,084-ton Riviera carries 1,258 passengers. Features were carried over, but new ones were established, and the larger ships quickly won a devoted following. Oceania is not as inclusive as most high-end lines, instead following an à la carte model for gratuities and drinks.
Riviera winters in the Caribbean, offering 10-day voyages out of Miami that explore some of the region's more exotic ports, such as Roatan, Samaná and St. Barths; summers are spent in the Mediterranean's choicer locales, with itineraries ranging from 7 to 14 nights. We busted out our piggy bank for the splurge, eagerly anticipating smart service and fine dining.
About Our Cruise
Check-in went smoothly. We arrived shortly after noon and waited about 25 minutes in the lounge while suite and concierge guests were provided preferential embarkation. Upon boarding, we were a little surprised there was no one to show us to our quarters (something we've appreciated on most other luxe lines), but the cabin was easy to find, and luggage was delivered well before cast-off. This allowed time to explore the ship at leisure, and Riviera's public area lived up to all expectations. This is a handsomely designed vessel with generous public spaces and a bevy of fine art. We'd rank the art collection alone as the best we've seen at sea—mostly early- and mid-20th century paintings from Cuban and other Latin American artists, with a few provocative, edgy pieces mixed in for good measure.
An easy-going atmosphere prevails, akin to that of an upscale resort geared to retirees.
Oceania's Riviera offered an adult cruise experience. No children were aboard for our itinerary. Children are allowed but there's no facility or staff dedicated to them (something we think might be an issue in summer or during school holidays). Instead, Oceania caters to a well-heeled, older crowd—with few exceptions, virtually all guests were over 50. Although there's no formal night, this crowd doesn't waltz around after dusk in tracksuits and flip-flops. There's also no poolside Hairy Chest Contest, no tacky souvenir glasses, and no gold chains sold by the inch. Yet for the most part, an easy-going atmosphere prevails, akin to that of an upscale resort geared to retirees.
Our veranda cabin was very comfortable—definitely a step up in quality, amenities and size from mainstream cruise lines. It was not, however, the size of entry-level cabins on Seabourn, Silversea, or Regent Seven Seas (by our measurements, the square footage Oceania claims for cabins is overstated).
Even the pool bar had tasty grilled fare, starting with a luscious surf and turf sandwich.
Cuisine is a major focus for the line and, by industry standards, we found most dining on Riviera to be excellent, with a few exceptions. In addition to the rewarding main dining room and a terrific buffet, there are four specialty restaurants, and there's no surcharge for these meals (though this is where we found food and service to be most uneven). Even the pool bar had tasty grilled fare, starting with a luscious surf and turf sandwich—sliced filet mignon and lobster medallions on toasted ciabatta. There was also a special wine pairing meal offered several nights of the cruise at La Reserve, which we found superb—the $95 add-on was worth it for foodies and wine aficionados.
Deck areas felt relatively spacious, and although we observed loungers to be in short supply around the pool, it wasn't hard locating a place to stretch out on the decks above (the one pool, by the way, is larger than average for the luxury sector). Though activities were limited, there was a tennis court, mini-golf course and an art studio staffed by an artist. One sterling feature not found on any other cruise ship (except Marina) is hands-on cooking lessons—for a fee—with instruction overseen by the Culinary Institute of America. Shows on Riviera were rudimentary at best—okay if nothing else was going on, but nothing to go out of our way for. This isn't uncommon with small-ship luxury lines, but given that Riviera has a larger showroom (and more guests), a better entertainment program was in order. There was, however, a good variety of live music on the ship, including a string quartet playing for afternoon tea and a pianist trolling through the standards at the Martini Bar each evening.
Riviera is noteworthy for a few things it doesn't have. There was no camera crew on board, plaintively asking for poses. The ship lacks a traditional promenade deck, below the lifeboats. But for the most part, guests will be impressed with the number of features available that aren't found on smaller luxury ships. The atmosphere is somewhat comparable to that of a Ritz-Carlton resort—slightly sterile and corporate, but appealingly polished.
Comparing Splurges
Part of Miami-based Prestige Cruise Holdings, parent company of Regent Seven Seas Cruises, Oceania claims to "own" the "upper-premium" market. In marketing-speak, they've created a product comfortably snuggled between the premium brands (which might be Cunard and Celebrity) and luxury (Seabourn, Silversea and Crystal Cruises). A major difference between these two markets is that pricing for the luxury sector typically includes a lot of the extras that might otherwise pump up a checkout bill—gratuities, drinks and specialty dining are mostly (or entirely) included. By identifying a middle route, Oceania gains a lot of pricing leverage, as there's no other cruise line claiming this segment of the market.
The fare did not include gratuities or drinks—costs that can top $75 a day per person.
For this reason it's difficult to make apples-to-apples comparisons about whether Riviera provides good value. But just prior to publication we reviewed per-day rates for cabins on comparable itineraries for the upcoming year, for ships that offer an experience that is a notch above the Oceania product. Riviera's veranda cabins for Mediterranean cruises averaged about $455 per day, per person—a fare that does not include gratuities or drinks, costs that can top $75 a day, per person (Riviera's auto-gratuity is $15 to $22 per day and the all-inclusive drink package runs $59.95 per day).
By contrast, during the same timeframe, similar Mediterranean itineraries aboard Crystal Serenity averaged $560 per day for a comparably sized veranda cabin, including gratuities and drinks. Silversea's Silver Spirit priced out at an average of about $570 per day, including gratuities and drinks, and for a cabin almost 50 percent larger than Riviera's veranda units. Cabins on Seabourn Odyssey or Seabourn Sojourn averaged $650 per day including gratuities, drinks and all dining—again, for a cabin almost 50 percent larger. Admittedly, cruise pricing is enormously fluid, and rates almost always go up or down in the weeks prior to embarkation (all of these prices were obtained on the same day, sourced directly from the cruise lines).
With Mediterranean itineraries on lines such as Cunard and Celebrity going for $200 to $250 a day for veranda cabins, the premium to sail on Oceania Riviera surprised us. It will be interesting to watch how the coming launch of Viking Ocean Cruises in 2015—potentially a direct competitor to Oceania—changes the scene.
Beyond the initial cruise fare, there are other cost issues to be aware of. Airport transfers arranged through Oceania were outrageous—the per-person rate was about three times the price of a taxi. Oceania's gratuity rate is the highest in the industry. And shore excursions were extortionate—we dodged the herd and made all our own arrangements for considerably less. By contrast, we noted that Oceania's airfare add-ons can be reasonable compared to these other lines. And for those who drink no alcohol, Oceania's à la carte model works well.
Conclusion
Oceania's Riviera is an undeniably beautiful ship, and it's the newest vessel at sea designed for the upscale crowd. Not only does Oceania Cruises straddle an underserved market segment between the mass-audience cruise companies and the pure luxury cruise lines, but Riviera (and sister ship Marina) provides a unique bridge between smaller luxe ships with limited amenities and activity-filled large ships that can feel crowded. Only one other upmarket line, Crystal Cruises, has ships (almost) the size of Riviera (though both of Crystal's ships are now more than a decade old).
We would absolutely look forward to sailing on Riviera again, but for one caveat.
We don't take issue with Oceania marketing its product as "upper premium"—at least not in regard to Riviera. Elegant and classy, with dining that is among the best in the industry, the ship possesses many fine attributes that make a voyage memorable. The size of the ship is just about perfect for our taste—not too big, not too small, easy to get around. We would absolutely look forward to sailing on Riviera again, but for one caveat: It's overpriced.
While current demand may be allowing Oceania to boost fares, we feel that there are other cruise lines offering similar itineraries that, for comparable fares or just a few dollars more, may provide discernably better value. And for spendthrifts, it's not hard to find alternatives offering quality suites and good food and service that sell for quite a bit less than Riviera.
Editor's Note: USA Today reported that Oceania will increase its auto-gratuities to $16 per day, per guest for standard cabins and $23 for suites, effective with the 2015-16 winter season.
Our editors review and recommend products to help you buy the stuff you need. If you make a purchase by clicking one of our links, we may earn a small share of the revenue. Our picks and opinions are independent from any business incentives.
Sections