cruises
Royal Caribbean Oasis of the Seas Review
More than your average mammoth vessel, Oasis of the Seas left us awestruck in so many ways. But is it worth the added expense?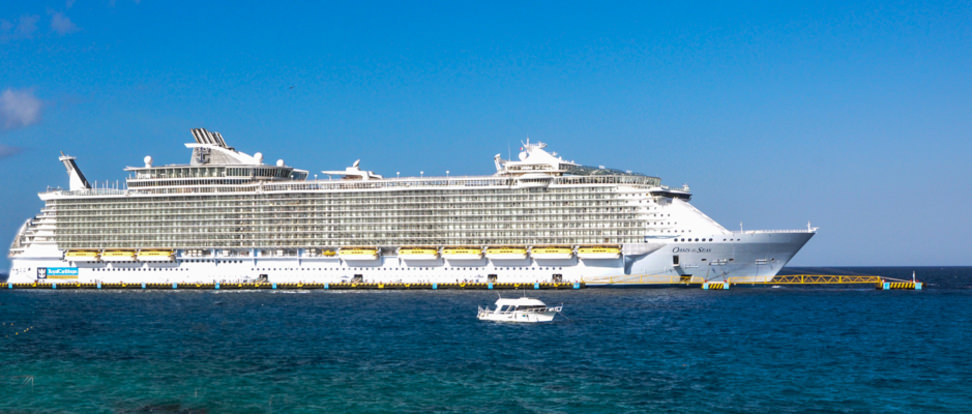 Rivaling the Queen Mary 2 as the world's most famous cruise ship, Oasis of the Seas arrived on the scene in 2009 and left jaws agape. Only the launch of a twin sister a year later—Allure of the Seas—could possibly steal any thunder from the debut of the world's largest cruise ship.
Allure actually tops out at 2 inches longer than Oasis, but we're not going to quibble here—Oasis of the Seas is the megaship personified. Weighing in at 225,062 tons, Oasis and Allure are 45 percent larger than the next largest cruise ship (Norwegian Epic). The extra tonnage allows for a number of innovative features found on no other vessels, along with more pools, more restaurants, and more bars. The sheer bounty of activities and amusements was key to Oasis and Allure becoming "must-ride" ships during their first years at sea, allowing Royal Caribbean to charge a premium for itineraries that are virtually identical to ones offered by other cruise lines. So successful have these heavyweights been that a third, slightly larger Oasis-class ship is under construction for a summer 2016 arrival (there's also an option for a potential fourth ship).
For now, Oasis and Allure alternate on seven-day Eastern and Western Caribbean cruises out of Fort Lauderdale's Port Everglades. Three destinations are visited on each itinerary, ports that had to be adapted to handle these mammoth vessels. We hopped aboard Oasis of the Seas to get a feel for what it's like to ride this floating resort.
Editor's note: In October 2014 Oasis of the Seas went through its first dry dock, to address normal maintenance issues, but also to make substantial changes to the dining, retail and entertainment offerings. The Tony Award-winning musical "Cats" has replaced "Hairspray" in the Opal Theater. Retail options Cupcake Cupboard, Willow, and Pinwheels have been replaced by Kate Spade, Michael Kors, and Britto, respectively. The library on Deck 11 is being replaced with a new dining venue. A number of cabins have been added in various locations around the ship, and bandwidth for WiFi has been improved. Changes to dining aboard Oasis of the Seas are addressed on page 3 of this review.
About Our Cruise
It's not hard to arrive for a cruise aboard Oasis of the Seas without a few built-in expectations. For instance, that the boarding process for a ship that carries 5,412 passengers (at double occupancy) can't help but involve crowds and lines. In fact, the boarding process went smoothly—our wait to check in at the custom-built Fort Lauderdale terminal was no more than 2 minutes, and less than 10 minutes after check-in our numbered group was called for boarding.
We thought we might struggle with directions for the first few days, but there are excellent interactive screens at all elevator/stairwells, and Royal Caribbean has divided the ship into four color-coded quadrants: port/forward, port/aft, starboard/forward and starboard/aft. There are just two elevator banks, but these seemed to handle the demand well.
Best of all was Central Park, a lushly landscaped garden with 12,000 plants, vines, flowers and trees—yes, live trees.
Another assumption was that such a huge vessel would have all the elegance of an apartment complex set adrift. But as we explored Oasis that first day, we discovered the "neighborhoods" conceived to help break up this megaship into different experiences, catering to a broad range of audiences, tastes and moods. There was the Royal Promenade, an interior shopping mall occupying a three-deck-high atrium within the ship (a feature that will be familiar to those who've sailed on Royal Caribbean's Freedom- and Voyager-class ships). A floating bar rose and descended within the atrium, like a space-aged hovercraft. More revolutionary was the Boardwalk area, an open-air neighborhood occupying the aft section of Deck 6, flanked by eight-story walls of cabins rising on either side. There was a traditional wooden carousel, ice cream and donut shops, and a toy store setting the Coney Island ambience. But best of all was Central Park, a lushly landscaped garden with 12,000 plants, vines, flowers and trees—yes, live trees—at midship on Deck 8. Almost the length of a football field, the park had winding pathways, benches, multiple dining and drinking options, and somehow managed to convey the feeling that we were anywhere but at sea. Amazing.
Credit Royal Caribbean's split superstructure design for making these and other innovative features possible on Oasis of the Seas. In the process, some cruise ship design conventions were thrown out the window: The ship's spa and gym are located on decks 5 and 6, forward of the main showroom rather than just above the bridge, maximizing "dead" space within the bow and freeing up valuable upper-deck real estate. Even pools and sun decks up top were broad and appealing. (Check out Smithsonian's documentary about Oasis here.)
All Things to All People
The ship's entertainment is as good as it gets at sea, including the licensed-from-Broadway production of the musical "Hairspray"—shorter, but otherwise admirably close to the original. The outdoor Aqua Theater is home to dive extravaganzas that we rank among the coolest things on the ocean. Most of Oasis is family-friendly, but there are extensive activities for children and teens, infused with DreamWorks characters such as Shrek.
Oasis is a great choice for families. The ship's unusually diverse range of cabin size (many sleep six) is a boon for large, multi-generational families and other groups looking for a single ship that will satisfy a wide range of budgets and agendas. From zip lines to surf riders, ice skating to wine tasting, there is something for everyone (keep a close eye on the daily newsletter to keep track of all the goings-on).
Not everything was plus-sized. Our cabin was pretty conventional in girth and features, though heady suites are available for those who want to splurge. We were surprised that the ship's main buffet option, Windjammer Café, was considerably smaller than similar venues on smaller ships. The comedy club was so small that we never secured a reservation for a show. But although certain areas of the ship seemed limited in capacity, there's no denying the extent of dining and entertainment options available.
Don't expect that your cruise fare is going to cover the cost of your entire vacation.
By our count, Oasis of the Seas features 17 dining options, plus snack shops. Not all of these are included in the cruise fare—nine require an upcharge ranging from a few dollars to $95 for a chef's table evening with wine pairings. This is one ship where your cruise fare is only the start of the buying opportunities, and plugs to spend on dining, drinking, shopping, shore excursions and more are rampant—you can even buy ads in the daily newsletter to commemorate a traveling companion's birthday or special occasion. We didn't like sitting in the Boardwalk area to enjoy the calm and fresh air, only to have it interrupted by the ship's Shopping Director, thundering over the loudspeakers to command us to attend a morning lecture. Frankly, the spending push is excessive. The trade-off was that most of the splashy activities and entertainment offerings were included. Still, don't expect that your cruise fare is going to cover the cost of your entire vacation.
Is Bigger Better?
You can't get around the sheer size of Oasis of the Seas, but what amazed us was that, throughout our cruise, we only felt overwhelmed when we looked at the daily schedule and tried to make choices between the many and varied activities and entertainments. Crowds were managed well at ports. Both the design team and the cruise director's staff deserve kudos for putting a lot of thought into how to make the traffic flow, for the most part, seamlessly.
The ship's wine bar Vintages was usually deserted, and the menu of tapas here was a nice alternative to crowded restaurants.
Still, crowding does occur. The four main pools—each themed to a different audience—were usually packed, along with the loungers alongside. For the big shows, "Hairspray" and the Aqua Theater, people arrived early to get the best seats. Yet for every location that was busy, other places were surprisingly uncrowded. The Solarium Deck usually had free loungers (and the plunge pool here was rarely occupied). The ship's wine bar Vintages was usually deserted, and the menu of tapas here—with a surcharge—was a nice alternative to crowded restaurants. And Central Park—well, we can't say enough about how appealing this space was. One drizzly afternoon we were delighted to discover a barrel-full of umbrellas parked at the doorway into the park.
Make no mistake: Oasis of the Seas represents anything but an intimate cruise experience, and anyone in search of a quiet break from the pace at home will want to consider a much smaller ship. There are some who argue that megaships like these are too big to sail (sailing at full capacity, Oasis carries almost 6,300 passengers and a crew of 2,400). But we were impressed that, given its size, Oasis hummed along like a well-polished machine, without the kind of traffic jams we anticipated.
Conclusion
In the first couple years following their debut, Oasis and Allure of the Seas commanded premium pricing. They were ships that had to be seen to be believed. To make a comparison on price and value we checked advertised cruise fares for these ships' Eastern Caribbean itineraries, three and six months out. For these eight departures we found that Oasis and Allure cabin prices still averaged anywhere from 18 percent higher to more than double the fares for nearly identical seven-day itineraries out of South Florida aboard Norwegian Getaway, Royal Princess, and Celebrity Reflection, all of which are newer ships than Oasis and Allure. Is the hefty premium worth it?
For a multi-generational family holiday, these ships are hard to beat.
We found that the dining options included in the fare were strictly average aboard Oasis of the Seas. While there were many additional restaurants available with a surcharge, most weren't significantly better. Accommodations were comfortable, but also fairly average for newer, mass-market ships. However, the bevy of activities (most of which did not involve surcharges) was impressive at pretty much any hour of the day—many times we found ourselves having to make choices. And entertainment offerings were first-rate and diverse. For a multi-generational family holiday, these ships are hard to beat.
The distinguishing factor is—truly—size, and Oasis of the Seas is an architectural and engineering marvel. Dedicated cruise fans owe it to themselves to take a gander. But the ports we visited felt like a mere sideshow to the gee-whiz features on board. This isn't unusual on larger ships, but a cruise on Oasis is about the ship, not about exploring the Caribbean.
While this first cruise was an eye-opener, would we sail on an Oasis-class ship again? Probably not. We enjoyed ogling the conceptual and engineering prowess that created Oasis of the Seas but cabins are more expensive than those on the newest ships from Norwegian, Princess and Celebrity. If we wanted thrill rides, we'd head to Orlando. For dazzling shows, you can't beat Vegas. And when we want to see the Caribbean, we look forward to a smaller ship that doesn't block the view.
Our editors review and recommend products to help you buy the stuff you need. If you make a purchase by clicking one of our links, we may earn a small share of the revenue. Our picks and opinions are independent from any business incentives.
Sections