cruises
Silversea Cruises Silver Spirit Review
Silversea's elegant boutique ship Silver Spirit coddled and indulged us on a memorable Mediterranean sojourn.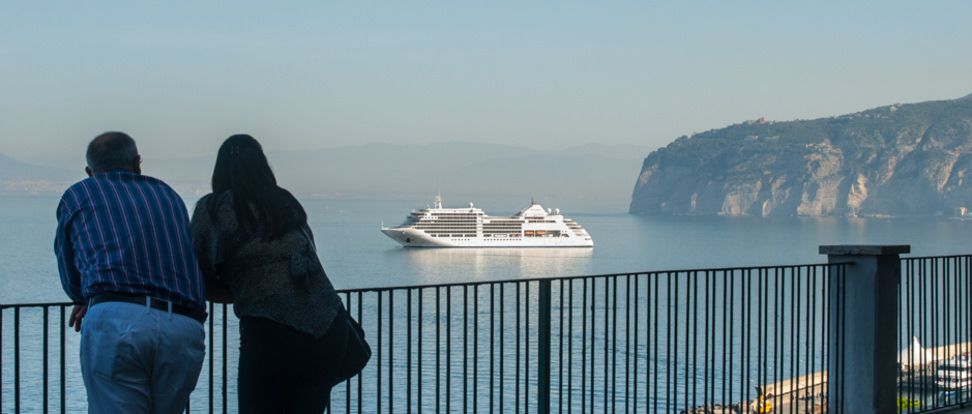 We had an itinerary that explored off-the-beaten track ports shared by no other cruise ships. For dinner we dined on risotto flecked with real gold leaf one night, and we were serenaded by a jazz duo in an intimate cabaret lounge another. Bartenders remembered our names—and our favorite drinks, each one supported by linen napkins. And when we retreated to our cabin—er, our suite—we plugged in our iPod, surveyed the passing scenery with binoculars supplied by the ship, and then settled into a long soak in our full bathtub. Were we dreaming or had we magically joined the 1 percent?
Offering a long list of upscale amenities, some of the most spacious "standard" cabins at sea, and itineraries that explore fine ports in the Mediterranean and beyond, Silversea Cruises' classy Silver Spirit arrived on the scene in 2009. Although it's the largest vessel in the Silversea fleet, at just 36,000 tons Silver Spirit is considerably smaller than ships sailing for the big-name brands. Yet Silver Spirit has plenty of big-ship features. With a full-service spa, salon and gym, multiple restaurants and bars, a casino and showroom featuring live entertainment, a cruise aboard Silver Spirit could hardly be classified as an exercise in restraint.
Without question, Silversea Cruises' Silver Spirit provided an enjoyable cruise that pampered us day and night. And yet our voyage wasn't perfect—there were a number of annoyances that shouldn't have occurred with any cruise line that touts a luxury ride. There was also a nagging comparison that unexpectedly tugged at us from embarkation till the morning we checked out.
About Our Cruise
Monaco-based Silversea Cruises is a private venture of the Lefebvre D'Ovidio family of Rome. Starting in 1994 with the 296-passenger Silver Cloud, the line has grown to eight ships, including three expedition vessels that specialize in the Galapagos Islands and Arctic regions. Silversea is unique in that, despite the small capacity of its fleet, its ships sail to all seven continents, calling on hundreds of ports annually, many of them never visited by any of the big-name cruise brands.
Although none of the voyages offered by Silversea could be classified as remotely inexpensive, we booked a cabin aboard Silver Spirit at a great price, a fare that included all beverages (except truly premium wines and spirits), all gratuities, and a balcony suite that was almost twice the size of a standard cabin on a mainstream cruise line. It was a reminder that those who can be flexible with travel dates or itineraries (or can book just a month or two out) can snag excellent deals, even on the most upscale cruise lines. By contrast, our fellow passengers did not appear to bargain-hunters. A mix of European and North American, and mostly ranging in age between 40s into 80s, the guest list represented the type of crowd we'd probably encounter at a five-star Med resort. Formal night was discretely enforced by the crew.
Silver Spirit offers one of the most favorable crew-to-guest ratios in the industry.
Some elements of "luxury" can be quantified. With just 270 cabins and a crew of 376, Silver Spirit offers one of the most favorable crew-to-guest ratios in the industry, just 1.4 passengers for each crew member. Further, the overall passenger/space ratio—the amount of ship, public and private, devoted to each passenger—is also quite generous by industry standards. Our cabin sprawled more than 365 square feet including the balcony, and offered ample living space, an oversized, swanky bathroom with separate tub and shower, a walk-in closet, and nifty extras like an umbrella and pair of binoculars, along with the services of both a maid and a butler. It was fairly described by Silversea as a suite.
For a relatively small ship, Silver Spirit had a surprising number of dining options. In the main restaurants, meals were generally excellent, with a special hats-off to several fine pasta and seafood dishes. The Restaurant (aka the main dining room) and The Veranda offered lovely food, and we enjoyed our dinners in two specialty restaurants that carried a surcharge—we don't think we've ever had a better meal at sea than the one we experienced at the very intimate French restaurant, Le Champagne. But other options, including the pool grill, a supper club, and in-room dining, fell short. We found the quality of brewed coffee varied all over the ship—it was sometimes oddly poor (cappuccino and espresso was available everywhere and was more reliable).
We had problems with a few other aspects of the operation. Our cabin distinctly smelled of cigarette smoke. Smoking is seemingly allowed inside cabins, though Silversea collateral is perhaps deliberately vague on this subject—at times, ambient smoke was an issue in other areas of the ship. There were about a dozen kids onboard our cruise—aged 8 to upper teens. Parents (one of whom boarded with a nanny) did little to control occasional unruliness, and neither did ship staff.
Editor's note: After our review was published, Silversea clarified its smoking policy. Smoking is no longer allowed in guest rooms or on balconies, or in other public areas of the ship. Exceptions are the Connoisseur's Corner, designated areas of the Panorama Lounge and Pool Bar, and select tables at La Terrazza. These policies were in effect during our cruise, but perhaps not enforced to the degree they should have been.
On the third day of the cruise a letter arrived in our cabin announcing that we would be donating $1 a day—charged to our room account—to the Maruzza Foundation, a charity started by the family behind Silversea. While we had no objections to the foundation's objective (palliative care for children), nor would we take issue with Silversea's owners donating profits, we were not comfortable that even a minor surcharge was being added to our bill for a charity we had not personally heard of much less vetted. At the front desk an attendant said it was not a problem to remove the charge from our bill; our names were added to a list.
We Couldn't Help Comparing…
There are other upscale cruise lines in the industry, with ships both bigger and smaller and more and less inclusive than Silver Spirit. But our earlier journey aboard Seabourn Sojourn proved to have so many similarities with our Silversea experience, we couldn't help making comparisons. The ships are almost identical in age, size and layout—Silver Spirit is about 6 months older and carries 20 percent more passengers; per-day pricing is roughly comparable, as well as staffing levels and crew-to-guest ratio. We've had just one cruise with each line, so our thoughts are representative of just those sailings.
Cabins on both ships are concentrated in the forward section, allowing dining and entertainment facilities to be focused aft (and keeping noisy back-of-house features away from sleeping areas). Sojourn had an extra whirlpool secreted away on the bow of the ship, plus an extra plunge pool and whirlpools on a quiet rear deck. Silver Spirit's pool was limited to the one on Deck 9 midship flanked by three whirlpools; this made a key relaxation area more crowded. Sojourn had a small foldout marina that could be opened for watersports while anchored. We also preferred the bar scene—such as it was—on Sojourn; the venues had more varied ambience and seemed more conducive to meeting fellow travelers than what we found on Silver Spirit.
When it came to cabin service, Silver Spirit came out ahead.
Veranda cabins were almost identical in size, layout and amenities on both ships, but we preferred the lighter, more contemporary look of our cabin on Sojourn, as well as the proper dining table that easily accommodated a full meal for two. But when it came to cabin service, Silver Spirit came out ahead. Our maid and butler on Silver Spirit each oversaw a total of 14 cabins, but we liked that the butler was on duty starting from 6:30 a.m., while the maid was available until 2 p.m. (as well as providing nightly turndown). This schedule made for smoother service than we experienced aboard Sojourn, where one attendant oversaw 10 cabins, and not always efficiently.
Finally, while we had excellent meals on both ships, we had a more consistent culinary experience on Sojourn. Silver Spirit had more dining options, but a couple of them were disappointing. None of our meals on Sojourn—even the pool grill and in-room dining—was a letdown.
Conclusion
Most aspects of the operation aboard Silver Spirit were excellent, delivering a level of quality, service and amenities that is all but unheard of in the mainstream cruise industry. The first class ministrations begin with arrival to the port—we were swiftly checked in (by one of the singers it turned out—nice touch) and aboard in little more than 5 minutes. The (mostly) all-inclusive aspect of Silversea means we weren't always being asked for our cabin key or to sign for purchases; we didn't fret over how our checkout bill was adding up. Most of our meals were terrific, and the service was generally flawless.
We particularly appreciated how there wasn't a hard-sell for tours, shopping, spa treatments and art auctions.
Only a few other cruise lines operate at this level, such as Regent Seven Seas, Crystal and Seabourn, and although Silversea is ostensibly all-inclusive, we particularly appreciated how there wasn't a hard-sell for tours, shopping, spa treatments and art auctions, as we commonly experience on most cruise ships.
Would we sail Silver Spirit again? Given the right price and cruise, absolutely. But, offered the same cost and itinerary on Seabourn Sojourn, we might opt for the journey with Seabourn again. Some of our preference is based on personal likes (lighter décor, for instance, on Sojourn, and a guest list that seemed a bit less entitled)—not necessarily quality. But when it came to dining, the consistency and subtlety of meals aboard Seabourn Sojourn edged into first place.
Without question, however, we look forward to our next opportunity to sail with either line.
Our editors review and recommend products to help you buy the stuff you need. If you make a purchase by clicking one of our links, we may earn a small share of the revenue. Our picks and opinions are independent from any business incentives.
Sections